Climate facts: Why we need peatlands
Peatlands store large amounts of carbon, removing greenhouse gases from the atmosphere – if they aren't drained as they have been in Germany. Drained peatlands emit carbon dioxide. If peatlands were rewetted and used differently, they could regain their potential for storing greenhouse gases. It's a challenge similar in magnitude to phasing out coal, experts say. But it's worth the effort: in addition to climate protection, rewetted peatlands would also benefit biodiversity, the water supply and resilience to extreme weather events. In our new factsheet, we show what it's all about.
According to calculations published by the Greifswald Mire Centre in 2019, at least 50,000 hectares of peatland would have to be rewetted in Germany every year in order to achieve the 1.5-degree target. This is a challenge similar in scale to phasing out coal, Jan Peters writes in a guest post for the German publication Klimareporter.
Wetlands are immensely important as natural carbon stores. Peatlands store about 500 billion tons of carbon, but occupy only 3 percent of the Earth's land surface. They are oases of biodiversity and they improve the quality of water, store it in the soil, and buffer cities and infrastructure during floods. In this way, they make our society more resilient to the changes that come with climate change.
Unfortunately, Germany's peatlands are in very poor ecological condition. Over the centuries, 98 percent have been drained for settlement or agriculture. Their carbon-rich peat was extracted to heat houses or add to potting soil. Today, few natural peatlands remain, and only 4 percent have been rewetted to date.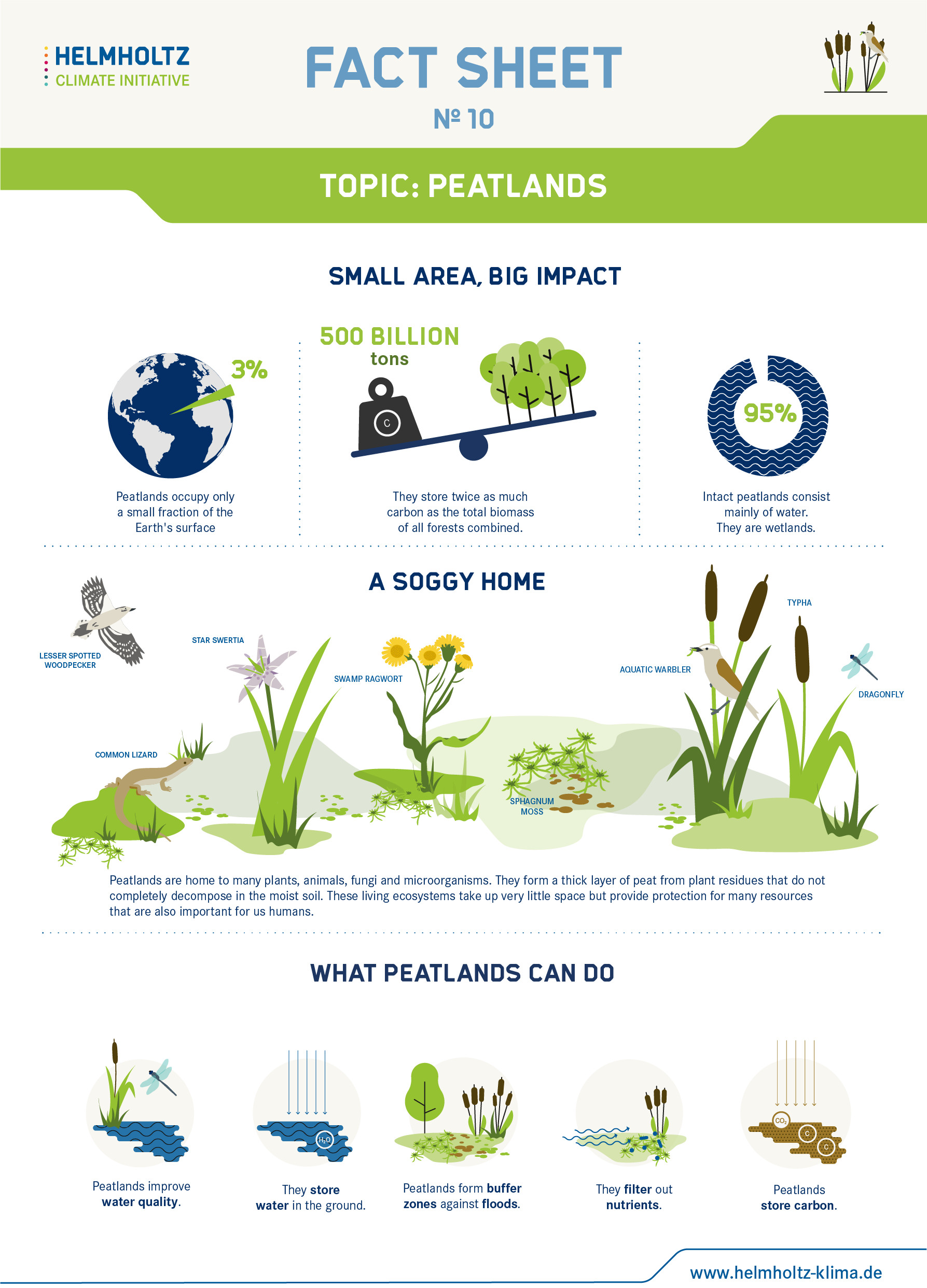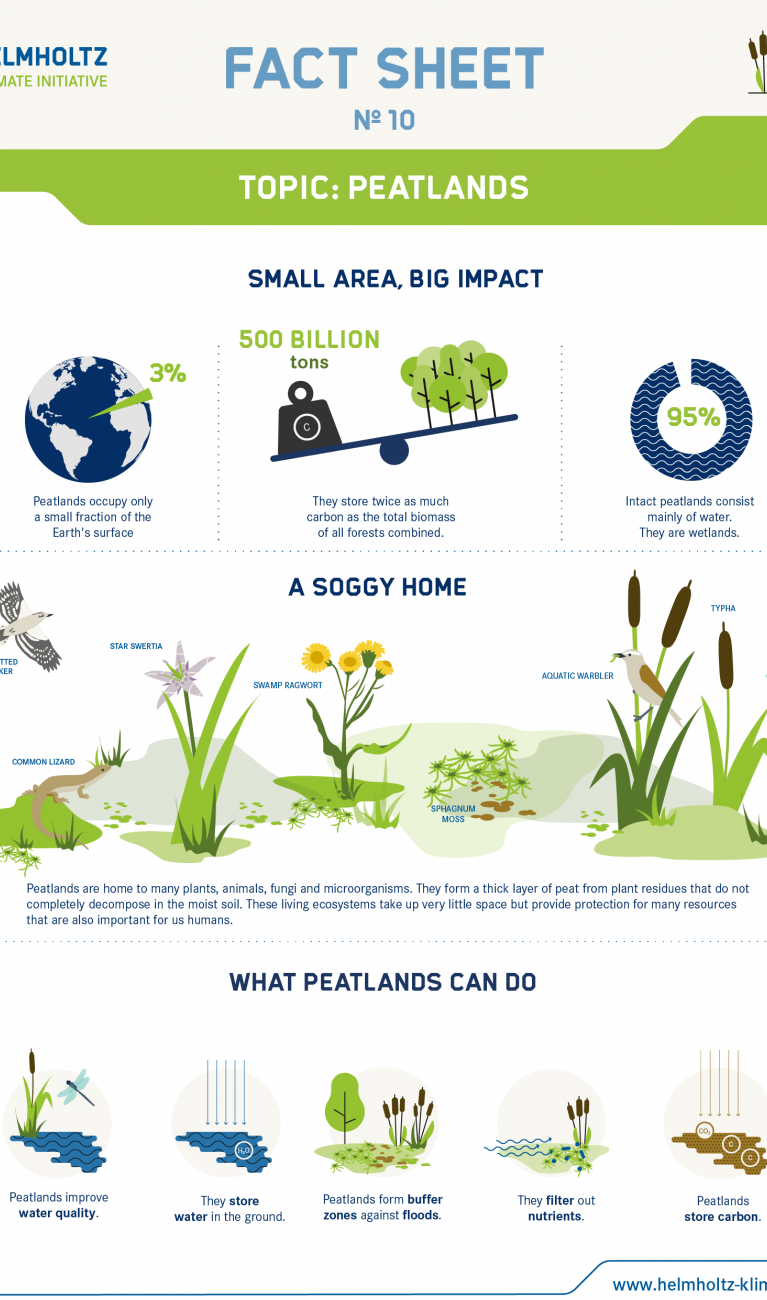 ©
Tina Kron / Helmholtz-Klima-Initiative
Drained peatlands contribute around 35 percent of Germany's agricultural emissions. If the peatlands were rewetted, emissions of up to 20 to 30 metric tons of CO2 equivalent per hectare and year could be avoided in grasslands and croplands, according to Aram Kalhori of the Helmholtz Centre Potsdam – GFZ German Research Centre for Geosciences. Since there are 1.4 million hectares of bogland in Germany, this could prevent large amounts of greenhouse gas emissions.
Kalhori and her colleague Torsten Sachs study gas flows between the biosphere and the atmosphere at the GFZ. In Mecklenburg-Western Pomerania, they are monitoring the rewetting of a peatland to observe how the methane and carbon dioxide concentrations change there over time.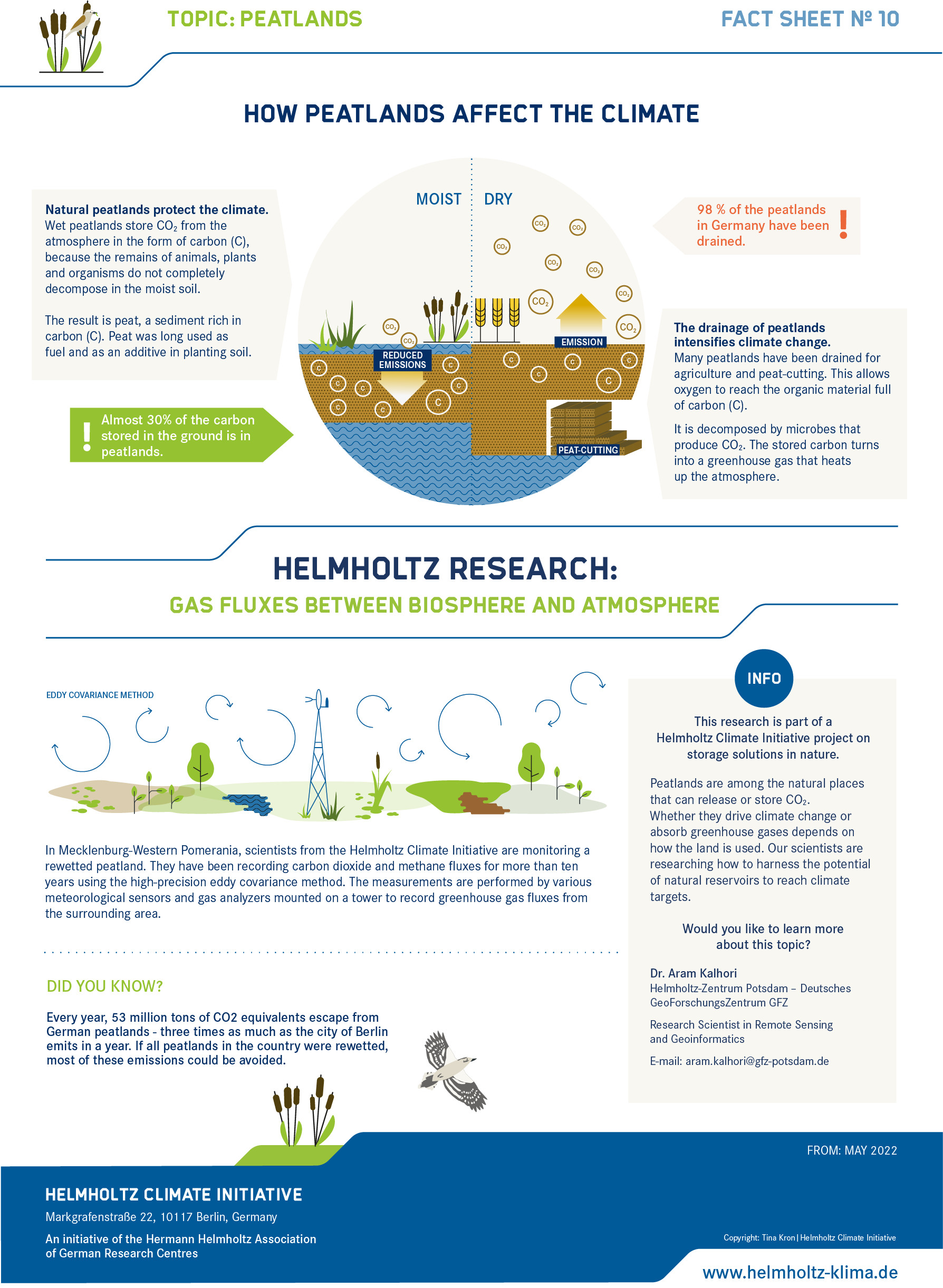 ©
Tina Kron / Helmholtz-Klima-Initiative
Rewetted peatlands can sequester more carbon, but true restoration is impossible, Sachs says. So even though we can't bring back the old peatlands, we can ensure that new types of ecosystems are created there that protect the remaining peat and, in the best-case scenario, even remove further greenhouse gases from the air.
How can this be implemented in practice? It's unrealistic to simply convert the areas into nature reserves because too many people's livelihoods depend on them, Sachs admits. However, the agriculture practiced there could certainly be converted to what is known as paludiculture on wet soils. This could have a major impact, because the agricultural use of drained moors in Germany is responsible for 7 percent of national CO2 emissions, which could be avoided with different management – on a very small land area.
Read more about peatlands and paludiculture in our interview with Aram Kalhori and Thorsten Sachs.